HireSafe offers a wide variety of drug testing services ranging from hair, saliva, urinalysis and more. We have more than 12,000 nationwide collection sites with an extensive expertise in regulated and non-regulated environments. To take it a step further, we can help you design and implement a successful drug screening program to find the best new employees.
Sad to say, companies that do not conduct pre-employment drug screenings hire more drug users than those that do. While it is a smart business decision to cut expenses, it is also a smart business practice to make your organization's workplace as safe as possible. Substance abuse testing can assist you with both.
Ready to find out more?
Request a FREE drug testing services consultation!
Urinalysis Substance Abuse Testing
The most common drug test is to analyze a sample of urine. A positive test result only indicates that a drug was used sometime in the recent past. However, it does not tell whether or not the person was under the influence when giving the sample. For detecting alcohol, a urine test is accurate but it is not used because it correlates poorly with blood levels when usual collection procedures are used.
With our online registration platform, any of the nationwide Quest Diagnostics and LabCorp collections sites nearest your candidate can be selected. You will be notified when the specimen is collected, as well as receive the results immediately upon completion. Negative results are usually completed with 24-48 hours.

In addition, the Medical Review Officer (MRO) service is included with all non-negative test results.
5-Panel Urinalysis Drug Test
Marijuana
Amphetamine
Phencyclidine (PCP)
Cocaine
Opiates & Expanded Opiates
Masking Agents
9-Panel Urinalysis Drug Test
Benzodiazepines
Marijuana
Amphetamines
Phencyclidine (PCP)
Barbiturates
Propoxyphene
Methadone
Cocaine
Opiates & Expanded Opiates
Masking Agents
Ready to find out more?
Request a FREE drug testing services consultation!
Hair Follicle Drug Testing Services



Hair Follicle Drug Testing is another option to a saliva or urine drug test. We offer hair follicle drug testings with CAP and CLIA accredited laboratories for your pre-employment hiring needs.
Simply clip a hair sample (80-120 strands with length 1-1 ½" and NOT from a hairbrush) and in 1-2 days (1 day negative result, 2 days positive result) we will provide you with the most accurate drug test results showing the drug use history up to 90 days (approximately 30 days for each ½ inch of hair sample).
Random Drug Testing Services



Random Drug Testing is a requirement of all Department of Transportation (DOT) Model Agencies.  The rates differ by agency and can be found on the DOT Website.  To set up the program, a list of eligible employees and their SSN's are provided to HireSafe. Lists are emailed to the DER and alternate contact(s). Each quarter a random pull is conducted and the DER is notified.
HireSafe offers a non-DOT Random Drug Testing program based upon the federal format.
Ready to find out more?
Request a FREE drug testing services consultation!
Oral Fluids Drug Testing Services
Saliva or Oral Fluid-based drug tests are becoming more widespread due to their convenient procedure and are nearly impossible to be adulterated. Oral Fluid/Saliva-based tests are as truthful as urine onsite drug tests. These devices can be obtained directly from HireSafe.
The saliva drug testing procedure is not gender-specific with no privacy issues and can be suitable for pre-employment, random, post-accident, reasonable suspicion or return-to-duty testing.
Lab-based Oral Fluid Test



The Intercept lab-based oral fluid test is not an instant-result format. The specimen is collected during the interview process with an oral swab, deposited in a receptacle that is shipped directly to the lab and tested by Clinical Reference Laboratory. CRF is a federally certified (SAMHSA) laboratory utilizing the latest in analytical instrumentation and technology.
The convenience of onsite collection and the accuracy of the lab-based testing procedure make this format an excellent choice for remote locations. These testing devices are shipped in a case-pack of 10 units with a tw0-year shelf life. Pre-paid FedEx mailing envelopes are supplied.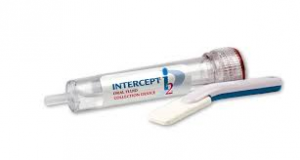 Ready to find out more?
Request a FREE drug testing services consultation!
Oratect Instant Oral Fluid Device (OFD)
The Oraltect produces negative results within 10 minutes of application. These negative results are well-suited to primary testings under reasonable suspicion, post-accident, random and pre-employment purposes. This format is not suitable for an adverse hiring decision because the results are not lab-based. If a non-negative result is returned, an urinalysis will be required before an adverse decision is made.
These devices are delivered in a case-pack of 25 units with a two-year shelf life.