Adverse Action – What is it and how to handle it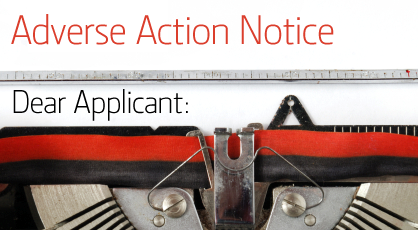 What is Adverse Action?
Adverse Action for pre-employment background checks is something that many companies seem to be ignoring as made evident in the abundance of Federal Credit Reporting Act (FCRA) class action lawsuits that sprang up in 2014.
Adverse Action is the method in which an organization outlines its reasoning as to why an applicant may not be hired. While pending, your applicant's possible rebuttal that the report's findings are incorrect.
Your applicant's right to dispute their background check results stems from the FCRA. It grants special privileges to your prospective employee being screened. The floodgates of litigation can severely harm a business if an employer violates those rights, ignores or is even ignorant of them existing. That's why it is absolutely critical to understand how adverse action works. Along with how to approach an applicant with possible criminal convictions.
Below we outline the process that is necessary to complete the adverse action procedure correctly.
Adverse Action Step 1:
An employment background check that was run on your applicant has returned a hit or more that disqualifies them from employment. A Pre-Adverse Action notification is now required.
Keep in mind, this notice doesn't explicitly describe what has barred your applicant from employment. It simply states there are records found that are concerning. Also, the notification comes with a consumer copy of the report that contains all possible hits found.
This notice must be sent your applicant. It must be noted when your applicant opens because the next few steps are highly dependent upon set time schedules.
Adverse Action Step 2:
This next step for the employer is the waiting stage. After your applicant has received the Pre-Adverse Action notification, no less than five business days should be allotted to the candidate to contest the results.
In this time, your applicant will contact the court or any organizations that are involved in holding the adverse information listed on the report. In addition, your applicant might be in talks with the third party background check agency or department in charge of all screening services to present their case to refute the claims.
Note: It is absolutely critical that you do not speak to your applicant as to why the Pre-Adverse Action notification has been sent. Let the Pre-Adverse Action notification do the talking in regards to that subject.
Adverse Action Step 3:
This is the final step in the Adverse Action process. If your applicant has not been able to refute the charges uncovered in the background screening report after no less than five business days, then the Final Adverse Action Notice will be dispatched.
The Final Adverse Action Notification is the last interaction between you and your former prospective job candidate. This letter clearly states your applicant is to not be hired because of the information uncovered in the background screening report.
The Adverse Action process actually isn't complicated. Instead, it's a simple linear process. The key problem is that it can be time consuming. Many organizations putting that much time and effort in such a seemingly trivial task can be cumbersome. Despite it appearing as a frustrating process, it is absolutely critical to avoid landing in a FCRA class action lawsuit because you didn't follow Adverse Action.
HireSafe has created a process that limits that amount of effort on the part of you with our "Simple-Click" Managed Adverse Action Process. It has been simplified down to a streamline online process in an easily managed system. Everything is time stamped and monitored online. This allows HireSafe's clients to focus on finding the best applicants possible without worrying about the bad apples.