Ban the Box changes for Philadelphia Private Employers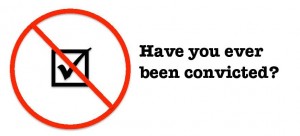 Effective March 14, 2016 new amendments to the Ban the Box ordinance in Philadelphia will take place. Currently, the ordinance requires companies with at least 10 or more employees to not ask applicants about criminal convictions. This can only be done after the first interview.
Philadelphia Ban the Box Changes
Now companies with at least one employee are covered by the Ban the Box ordinance in Philadelphia, PA.
Criminal history questions may not be on applications. If your company operates in more than one state you will need to use a separate application form for your applicants from Philadelphia.
Background checks can now only be done after a conditional job offer is made along with other limitations. These limitations are:

An applicant's criminal history may only be considered for 7 years from the background check. This excludes incarceration periods.
Withdrawing a job offer can only be done if the conviction record poses a risk that is unacceptable for the position OR the applicant can not meet the legal or physical job requirements.
An individual risk assessment must be done before rejecting a job applicant for their criminal history. The following 6 factors must be taken into account:

The nature of the offense
The time that has passed since the offense
The applicant's employment history before and after the offense and any period of incarceration
The particular duties of the job being sought
Any character or employment references provided by the applicant
Any evidence of the applicant's rehabilitation since the conviction

Applicants must be given a disqualification notice based on a conviction.
If the applicant feels their background check has errors, they must be given 10 days to provide an explanation or proof of the inaccuracies.

Companies in Philadelphia must post a notice that summarizes the amended ordinance in the workplace.
There are new penalties for not being compliant.
Next Steps for Employers in Philadelphia
It is important that your company stay compliant with the Ban the Box ordinance updates. Be sure to review your company policies on hiring. After your review, update procedures, forms and job applications.
Make sure that all of your work staff is properly trained with the new Philadelphia Ban the Box ordinance. It is important they are trained to only inquire about an applicant's criminal history or conduct after a conditional job offer.
If your company denies an applicant from employment based on criminal convictions, make sure you carefully document the 6 risk assessment factors that we discussed earlier.
Finally, obtain the Philadelphia commission on Human Relations required poster.