DOT Substance Abuse Testing FAQs
DOT Drug Testing Frequently Asked Questions

DOT Drug testing (Department of Transportation Drug Testing) can be confusing for your company and the driver taking the test. HireSafe, located in California, must follow the most stringent regulations surrounding transportation, and they are often stricter than the Federal level DOT. With our 21+ years of expertise, we have put together an exhaustive list of questions frequently asked about this service. These questions include content surrounding the Department of Transportation regulations, the DOT drug testing procedures, and everything that applies to the truck driver, the company administering the DOT drug test, or the managers involved in the paperwork to ensure you are compliant with the latest regulations. Here are some of the most common questions about DOT drug testing procedures.
If the below FAQ does not answer your DOT Drug testing or transportation background check questions, contact us, and we will get back to you with an answer promptly!
NOTE: Random Consortium Membership requires a minimum of six (6) active drivers.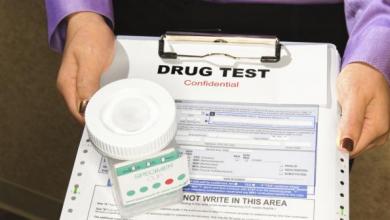 More about HireSafe DOT drug testing services.


Not sure what service is right for you? Fill out this form and get a recommendation from our background check experts!

DOT Drug testing FAQ's

Do donors have to go to separate labs for urine drug tests and breath alcohol testing (BAT)?
Expand
If a donor needs a urine drug test only, they generally go to a Quest or LabCorp collection site. If a donor needs both a urine drug test and a BAT, they typically go to a clinic or other third party site where BAT testing is available – the clinic or third party site can also collect for the urine drug screen. For drug testing only, collection at Quest or LabCorp Patient Service Center is typically less expensive.
How often do DOT regulated companies conduct breath alcohol testing (BATs) and Drug Tests?
Expand
DOT regulated companies that are required to do random alcohol testing are generally obligated to conduct 10% random BATs, with drug tests set at 50%.
What are the DOT rules when a person refuses to remove their outer garments or empty their pockets?
Expand
When a person refuses to remove outer garments or empty their pockets that is considered a "refusal to test". The Department of Transportation (DOT) Drug & Alcohol Testing rules and regulations – 40.191 (a) (8) states that:
Refusal to empty pockets when directed by the collector or behave in a confrontational way that disrupts the collection process is considered a failure to cooperate with any part of the testing process. However, refusing to wash hands is not a refusal. The DOT has indicated that if the donor refuses to wash his/her hands, the collector should note this in the remarks line and continue with the collection. In the case of a refusal, the collector must carefully follow the procedures at 40.191(d) by terminating the collection process and immediately notify the DER of the refusal. Then, thoroughly document the circumstances surrounding the event in the remarks section of the CCF.
What does stand down mean?
Expand
A stand-down is when an employee is taken out of a safety-sensitive position after the employer receives a laboratory result of non-negative, but the MRO has not yet reviewed or verified this result. An employer must apply to the DOT for authorization to use this stand-down provision of the regulations - DOT Drug & Alcohol testing rules and regulations – 49 CFR Part 40.
What would be some examples of 'an attempt to tamper' by a donor?
Expand
Adding an adulterant to the specimen, adding water from the toilet to the specimen, applying a substance to heat a cold specimen, etc.
Why can a DOT specimen not be used for a non DOT test?
Expand
A DOT specimen is required to be collected by federal mandate. This is not the case for non-DOT tests; therefore, the DOT collected specimen cannot be used for non-DOT tests.