Background Check Services, Client and Human Resources Information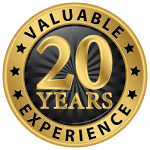 HireSafe has been a trusted business partner for 20+ years. You can trust our experience.
HireSafe offers a full suite of criminal background check services, with 20 years of experience our staff and site has a wealth of background check information. Use the links above to learn background check information that every business owner or manager should know.
Our company is based in California where background check regulations and employer regulations are the most stringent in the nation. With HireSafe Background checks you know you are getting the most compliant employment background check services available because our services are compliant with California background check regulations first and our client specialists ensure the criminal background check services we provide are compliant in all 50 states.