What is a Background Check – How does it work?
What is a Pre-Employment Background Check?

A pre-employment background check is the process of investigating an applicants history to determine if there are any red flags in their past that would preclude them from being hired. A background check usually includes county level criminal records checks along with previous employment verification, academic verification and a host of other reports such as federal level criminal records checks, or civil court record checks.
Employers can screen potential hires as long as the follow the rules set forth by the FCRA and an local ordinances. Compliant background screening companies like HireSafe use web portals that include required compliant documents and steps to ensure companies avoid FCRA lawsuits for not following the required steps or not providing the correct documents.

Need help finding out more about background checks? Fill out this form and get a recommendation from our experts!

What happens when we perform the Pre-Employment Background check?

We will validate your applicant's identity using their name, date of birth, and social security number. This ensures that information retrieved matches your candidate and not just someone with the same name.
We will trace your applicants' address history and any names they may have gone by in the past to ensure we find all relevant information.
Based on the information provided from the identity validation and address search, we will conduct a county criminal record search. This process involves collecting records from the courts in counties where your applicant has lived. This search finds misdemeanors and felony records.
Next, we search criminal database records spanning multiple states. We also search through the U.S. Department of Justice repository and sex offender databases. If we find any hits, we verify and confirm the information at the local court level.
Our experienced employment background check staff will verify the accuracy of the information found and ensure all the proper procedures were followed for FCRA and state compliance.
We send a customized report to you for review and a copy to the applicant.
What happens after the background check?

Now it is time to decide if you want to hire this candidate!
If you decide not to hire this candidate, you MUST follow FCRA and State compliant adverse action procedures. HireSafe offers compliant electronic adverse action letters through our portal!
If this is the candidate you want, it's time for on-boarding!

Need help finding out more about background checks? Fill out this form and get a recommendation from our experts!

How do I start services with HireSafe Background Screening?

Review our background screening packages to find one that works for you or fill out our consultation form to get help deciding on the best option for your company. Once you find the service that fits your company best, fill out the online Subscriber Agreement. Our professional staff, located in California, will verify your company information within 24 hours. When your company is confirmed, you will be emailed login credentials for our QuickApp background check portal. Simply login by selecting "client login" on our front page. (see below)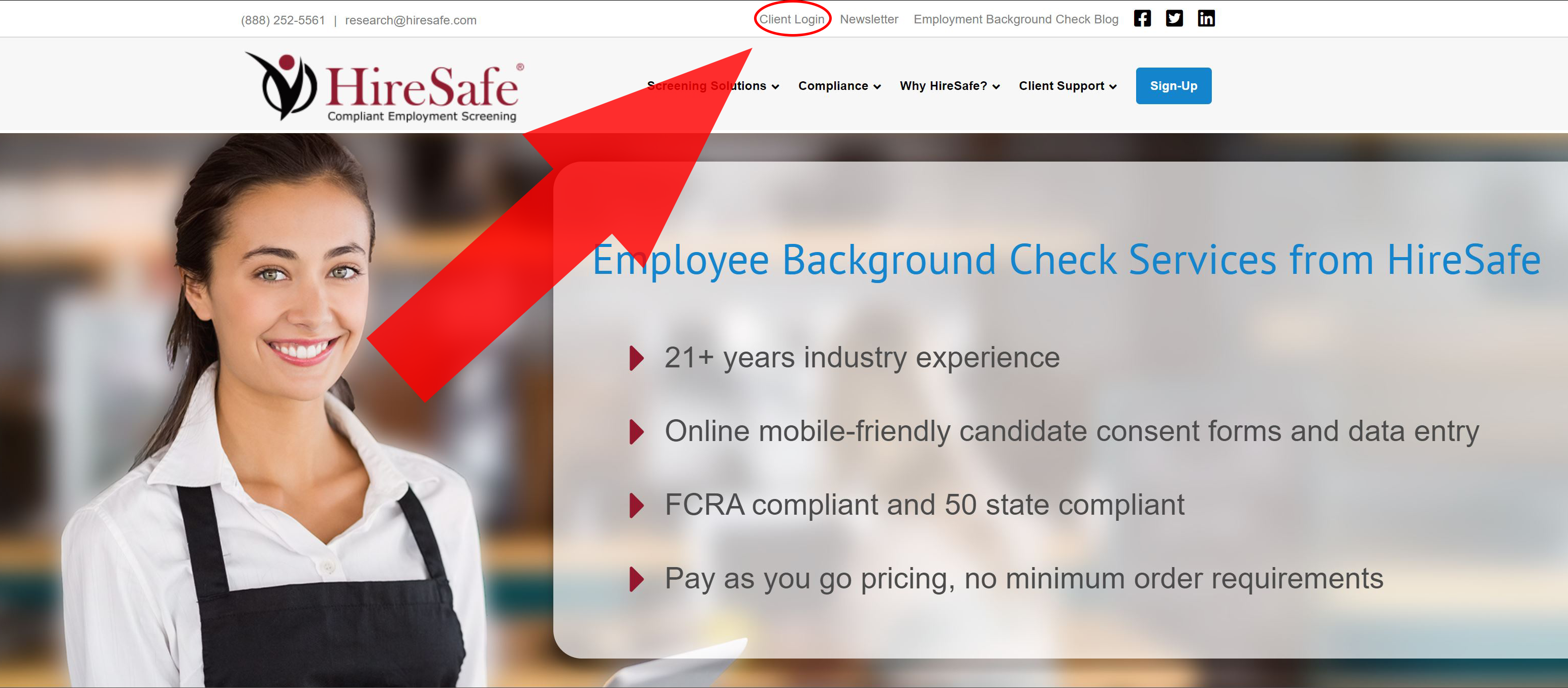 How do I start a background check for a potential employee?

To start screening employees after you have filled out the subscriber agreement, and received a verification email from our staff, you can follow the directions located here to start screening employees using the HireSafe QuickApp™!
About the HireSafe QuickApp™

Our electronic format for the QuickApp™ allows you to order background checks online. The process is as easy as entering your applicant's contact information, and then they will be emailed a secure link. The applicant can then login to our secure platform to submit their personal information.
The QuickApp™ format:
Provides FCRA compliant federal and state documents
Uses digital signature for authorization. No paper needed!
Reduces your workload so you can focus on your company priorities.
Ensures accuracy by having the applicant enter their information directly.
Eliminates the need to bridge the gap between the applicant and background check company.
Improves applicant satisfaction while allowing them to be a part of the process.
Improves privacy for you and your potential hires.
Decreases turnaround time with improved accuracy and direct applicant connection.
Simplifies the Adverse Information Letter if a candidate is disqualified due to background check information.
HireSafe consults county courts, past employers, and educational institutions retrieving information ONLY from reliable and compliant documented sources.  HireSafe follows the law and uses only compliant sources and methods, ensuring privacy and consistency in your screening policy. To ensure absolute professionalism:
We document researcher actions as they occur ensuring accuracy.
We store copies of every document acquired through the verification process to protect you.
We ensure information sources are reliable and compliant.
We prioritize security and privacy with advanced data security practices.
We have been in business since 1997 with friendly, experienced and knowledgeable staff.
Go Further with our QuickApp PRO™ Digital Employment Application
Our fully-integrated and customized QuickApp PRO™ Digital Employment Application supplies all application data directly to you with no paperwork involved. Customized with your personal preferences, starting the background screening process is one click away on your QuickApp dashboard.

Our Advanced Technology Works for You
Inviting an applicant to complete the hiring process through HireSafe leverages our Instascreen™ technology and two decades of experience to support your decision-making process.  While our services save you time, it's more than just efficient processing. Our services elevate your application screening process for you and your candidates.

Need help finding out more about background checks? Fill out this form and get a recommendation from our experts!

Learn more about how a background check works!

How to use the HireSafe Background Check Portal
Background Check and Fingerprint Myths
USA based compliant background check provider for over 22 years.

HireSafe has provided compliant employment background check services for over 22 years. We're a founding member of the PBSA, and all our screening services are FCRA compliant and completed within the USA.
With us, you'll never worry about your company's data being shipped overseas to third-world countries, unlike many other background check companies. We value and guard the applicants' personal information like it was our own.