Fair Credit Reporting Act Background Check Compliance
Fair Credit Reporting Act Background Checks

When conducting background checks, businesses must obey federal and state regulations. These include federal laws like the Fair Credit Reporting Act, as well as local ordinances. We take care to ensure all of our reports and your company is well within the regulations and safe from costly lawsuits.
Located in California, known for its strict employment laws, HireSafe stays ahead in FCRA and state compliance. We remain vigilant when it comes to FCRA compliance to keep your company safe from costly lawsuits.
HireSafe provides all of the applicant notifications and disclosures electronically through our online QuickApp™ format. There's no need to supply paper forms!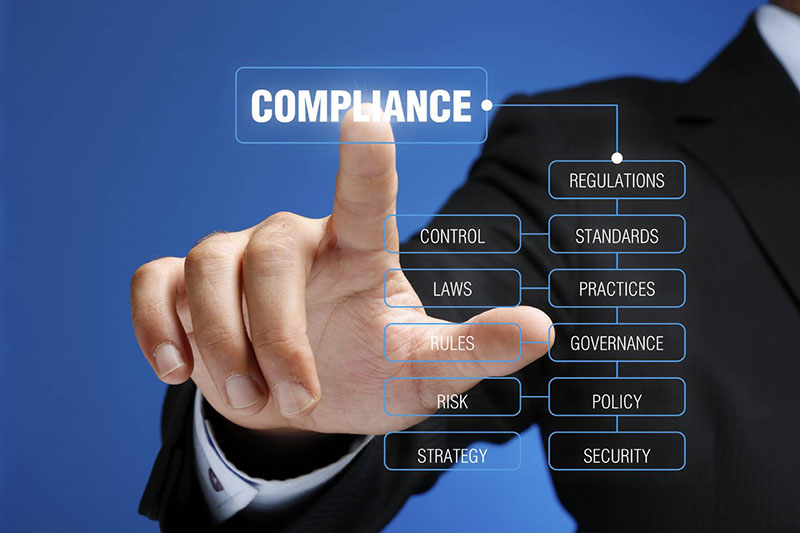 View our State Compliance page


Compliance Resources


View our Compliance Checklist!

HireSafe adheres to the following guidelines to ensure our FCRA background checks are entirely compliant.

The Fair Credit Reporting Act (FCRA) vendor and employer requirements.
Federal Trade Commission regulations
State laws and regulations requiring specific documents
State and federal report limitations
The Gramm-Leach-Bliley Act (GLBA)
Department of Transportation regulations
State consumer privacy laws
Drug testing requirements
Federal Trade Commission regulations
Case law, including cases that interpret the FCRA compliance and state privacy laws

Download the NAPBS FCRA Guide for Employers

USA based compliant background check provider for over 21 years.

HireSafe has provided compliant employment background check services for over 20 years. We're a founding member of the PBSA, and all our screening services are FCRA compliant and completed within the USA.
With us, you'll never worry about your company's data being shipped overseas to third-world countries, unlike many other background check companies. We value and guard the applicants' personal information like it was our own.
HireSafe offers compliance resources to keep you informed

The HireSafe Background Check Blog includes valuable insights on the latest employment screening trends, court cases, and news.
Our Compliance Checklist provides a quick and straightforward reference for maintaining complaint procedures.
We have pages of information on the background check process and how HireSafe keeps your company compliant.
Each Client at HireSafe has a dedicated account manager who can answer compliance questions for your specific company.
Have any compliance questions? call us anytime:
888-792-HIRE (4473) | research@hiresafe.com

Learn how the HireSafe QuickApp™ keeps you FCRA compliant

FCRA Compliance is built into HireSafe's procedures and work habits

HireSafe's professional standards define our employment background check practices so that we are always FCRA compliant. These include compliant procedures for making investigative telephone calls, to the design of our proprietary, custom software systems and everything in between.
With 20 years of experience in employment screening, you can trust a HireSafe background check. Here are just a few ways we keep you compliant with FCRA and state regulations.
Our production staff ensures no information prohibited by the Federal Credit Reporting Act (FCRA), such as criminal charges that were dismissed, are included in reports.
Dual authentication and company login approval via the HireSafe InstaScreen web portal restricts user's ability to view reports unless you request they receive full access. Having minimal authorized users makes it easy to keep sensitive records confidential.
Position-specific service packages enable you to ensure that your staff consistently implements your corporate hiring policies.
HireSafe also provides paperless Pre Adverse and Final Adverse Action notifications, keeping you compliant no matter what.
A recent update to the disclosure forms: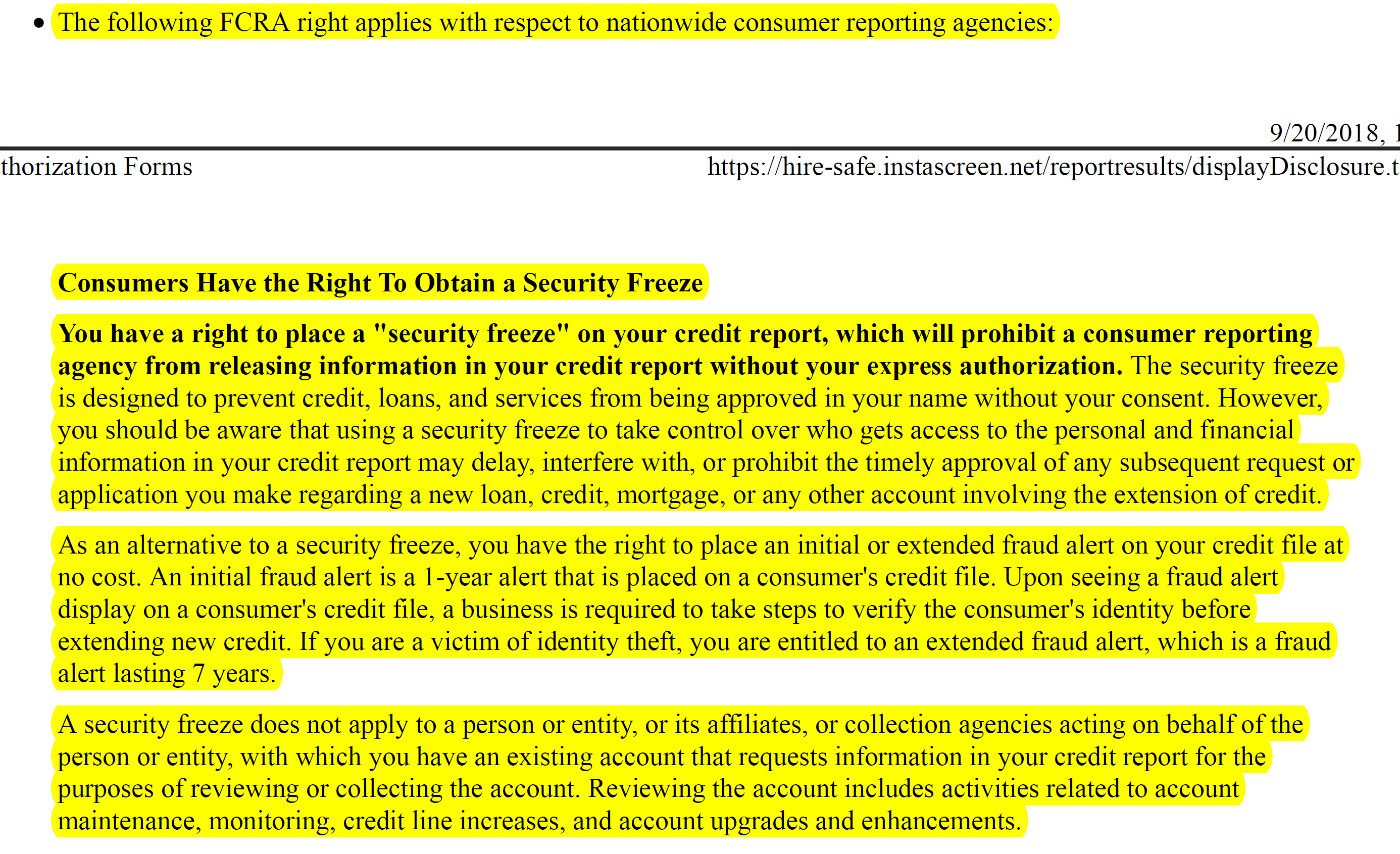 How does a HireSafe background check work?

FCRA background check reporting limitations

The FCRA regulations place limitations on the information that can be reported by a background screening company. To comply with employment law, Credit Reporting Agencies such as HireSafe only provide reports with filtered and compliant data in them.
Section 605 of the FCRA prohibits a background screening company from reporting the following:
Bankruptcy cases that precede the report by more than 10 years
Paid tax liens that precede the report by more than seven years
Accounts placed for collection or charged to profit and loss that precede the report by more than seven years
Civil suits, civil judgments, and records of arrest that precede the report by more than seven years
Any other adverse information, other than records of convictions, that precede the report by more than seven years
In addition to the limitations found in the FCRA, several states place restrictions on what information background screening companies may report. Information commonly prohibited includes
Arrest records
Older convictions (number of years varies state to state)
Dismissed, deferred adjudication and discharged cases.
There are several states with reporting limitations or special requirements related to background reports and their content beyond those of the FCRA. Specific requirements vary and include:
Reporting and/or use limitations for CRAs and/or employers
The inclusion of a check box on the disclosure/authorization for the applicant to request a copy of their background report, and
The prohibition of reporting arrests which did not lead to conviction.

View our most popular background check packages or create your own