Video Interviews - Get to Know the Candidate Before You Meet The Candidate
Know its the right fit before you even interview!
Candidates self-record answers to your questions.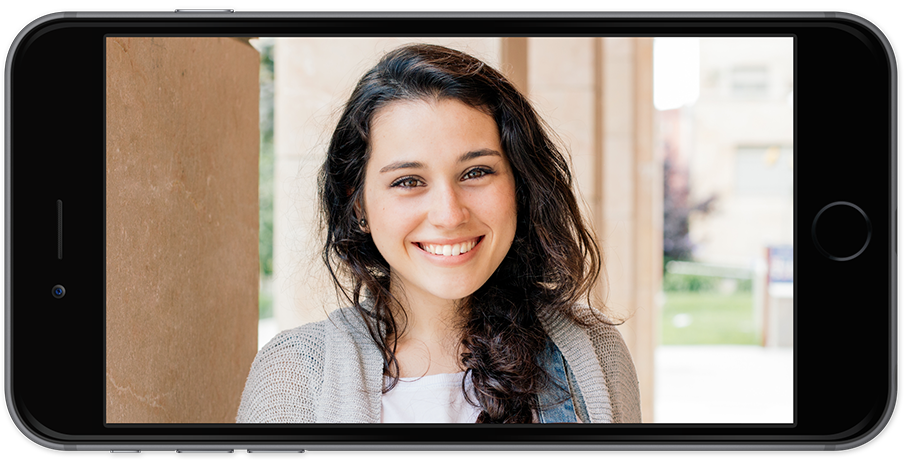 Join the growing trend of employers utilizing video as a dynamic, efficient, and effective tool to pre-screen candidates before an onsite interview.
Spend less time scheduling and conducting phone screens, and more time pinpointing the best-fit candidates through video pre-screening. Set invitation-specific expirations to ensure a timely response. Forward videos to the hiring team for feedback and collaboration. Our video interviewing solution is perfectly integrated within our Applicant Tracking Solution so you can invite, schedule, video interview/screen, and track a candidate from a single login.
Replace the time-consuming process of scheduling and conducting the initial candidate phone interview, which can take 20-30 minutes per applicant or more, with a 90-second video interview.
Unlike many other Applicant Tracking Solution providers who outsource video interviewing to a vendor and provide it as an add on at an additional cost, our video interviewing solution is our own, and it is included in your subscription.
Through trial and error, you have developed a recruiting process and workflow that works best for you. Our Applicant Tracking System allows you to tailor a recruiting and hiring workflow that works for you and quickly moves applicants through each stage.
Branded Career Page
Branded Profile Page
Custom Applicant Status
Adjustable Time Limits
Our Applicant Tracking Software provides a clean, simple, and intuitive user experience for your candidates, creating a positive reflection on your company. We make it easy for applicants to search for jobs, upload resumes, and apply online with easily configurable job applications. Moreover, our parsing tools can pull information from the applicant's resume, including contact information, education, work history, and skills. Furthermore, candidates can upload resumes in any form, on any device.
Unlimited jobs
Unlimited User Seats
150 Monthly Interviews
Make a Powerful Impression.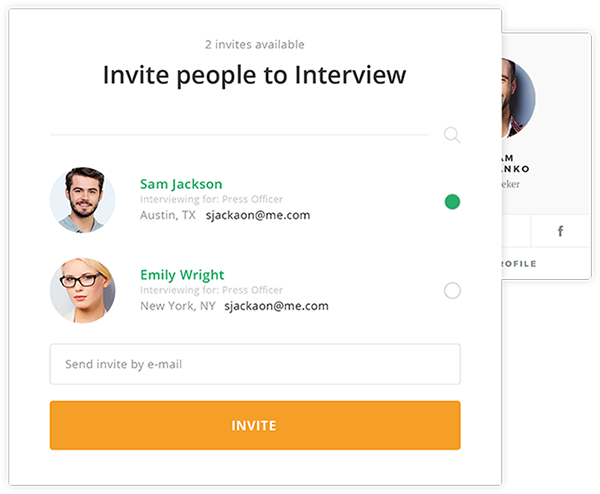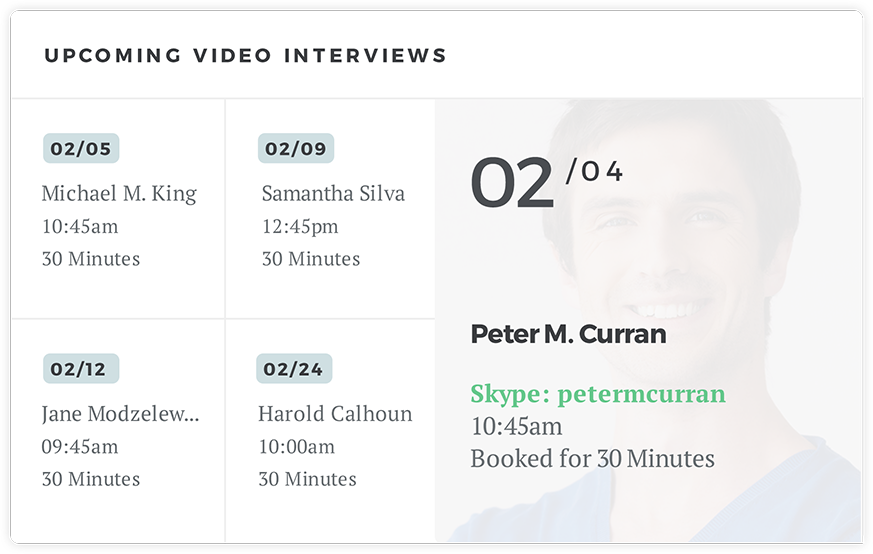 Application Interview Management
Companies with multiple locations are often decentralized, with each office using different (sometimes very different) hiring processes. Our Applicant Tracking Solution enables the significant advantage of bringing all areas onto one unified platform, creating efficiency, improved communication, and emphasizing best practices.
Reporting and Analytics
Download On-Demand
Social Media Integration
Candidate recording/decline options
International Response Capability